---
Loewe has opened the doors to its first standalone store in New York City.
Located in the Lower Manhattan district of SoHo, the hybrid space showcases the brand's latest accessories and runway collections alongside its ever-growing collection of art pieces. The store marks the latest chapter in the brand's plans to expand its retail presence in major cities across the globe.
Loewe has employed familiar touchpoints that are found across all the brand's stores. In keeping with the character of SoHo, the renovation respected the classic architecture of the neighborhood, restoring much of the original building to its former glory with a focus on natural materials. The walls are lined with stucco and the original oak floor has been revealed. Other finishes include podiums filled with various items including glass marbles, copper and light bulbs with others made from ceramic, concrete and Campaspero limestone from Spain's Valladolid region.
The space showcases the full range of women's and men's ready-to-wear, bags, small leather goods, soft accessories, shoes, eyewear and jewelry. At Loewe Greene street store, a series of 40 floor-to-ceiling spindles in tones of grey act as a dramatic feature at the back of the store. Inspired by antique cider presses from central Spain, Portugal and the south of France, their form plays with light and shadow and gives a sculptural accent to the modern interior.
The Loewe store will also feature the work of eight artists drawn from the Loewe collection – a growing anthology of art, craft and design. From painting and sculpture by contemporary artists to handmade objects and furniture, the collection reflects a fluid relationship between art forms. The Loewe art collection will rotate, creating an ever-shifting series of installations inside the store.
A major hand-painted screen by South African artist Lisa Brice (b. 1968, Cape Town) will be presented on the ground floor. Continuing her commitment to exploring the subject of female nude from a female perspective, Brice's painting portrays a group of women holding poses that reference historical paintings by Degas, Picasso and Manet; rather than passive muses, Brice's women are depicted as self-possessed characters empowered with agency. On the first floor the work Hill (2017) by German artist Andrea Büttner (b.1972, Germany) presides over the living room area. Honing in on the humble or the overlooked, Büttner explores notions of humility, shame and religious belief in sculptures and installations, glass paintings, prints and video works. Büttner has employed the woodcut technique for over a decade, harnessing the way in which it brings together the handcrafted with mass-production.
Other showcased artworks include an important group of vintage photographs by the Sri Lankan photographer Lionel Wendt (1900-1944). While long overlooked, Wendt's images of daily life in Ceylon, nude studies of men and women, and still life compositions, often manipulated with photographic effects, have recently gained him recognition as one of the most innovative and accomplished photographers of the twentieth century. Also presented will be a group of sculptures by Kate Newby (New Zealand, 1979), an artist who incorporates ceramics, textiles and glass into installations that explore the relationship between natural and manmade, and the limits of sculpture itself.
Kitsch works by Thomas Lanigan-Schmidt, who came to prominence in the 1960s New York East Village scene, find a home in the store, including his golden, jewel-studded rodents and a flamboyant shrine adorned with colored foils, cellophane, glitter and staples, in an exploration of queer identity. These are joined by an intimate self-portrait of photographer Angus McBean, with his partner David Ball, who was renowned for using multiple negatives, dramatic lighting, unconventional framing devices, theatrical props and stage sets to create his surrealist images.
Throughout the Loewe store will feature key pieces by previous Loewe Foundation Craft Prize finalists; these include 'Block' seats by British woodwork team Jim Patridge & Liz Walmsley (2019 finalists); a tea bowl by the radical Japanese ceramicist Takuro Kuwata (2018 special mention finalist); and baskets by Joe Hogan (2018 finalist), an Irish artist celebrated for his basketry using locally-grown woods and willow.
Also on display will be three tapestries, specially commissioned by Loewe for the women's Spring 2018 show. The tapestries depict photography from the 19th and 20th century that were transposed by means of advanced software onto thousands of threads, before being woven by master weavers near Limoges, France.
The Loewe Greene street store will also debut the New York Postal bag that will launch elsewhere around the world and online two weeks later.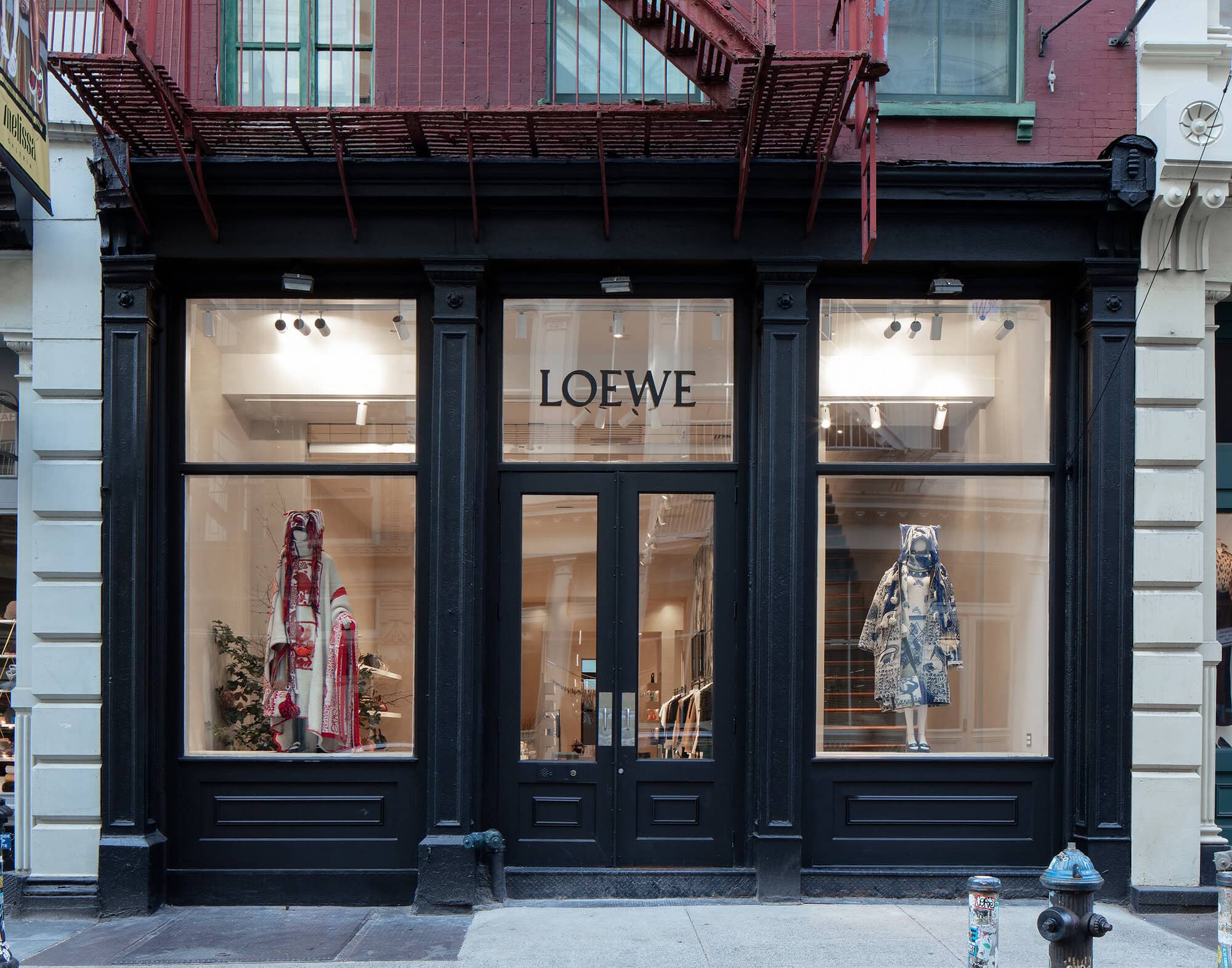 Location
79 Greene Street, NY, New York

---