Loewe opened its flagship Los Angeles store in Beverly Hills. The handmade blue ceramic façade takes its place among the iconic buildings of Rodeo Drive, bringing the brand's signature dialogue between art, craft and design to the city's renowned high-end fashion district. With a design based on the Casa Loewe concept established by creative director Jonathan Anderson, the store hosts a full offering of the brand's men's and women's ready-to-wear lines and accessories, accented by a curated selection of artworks from the Loewe collection.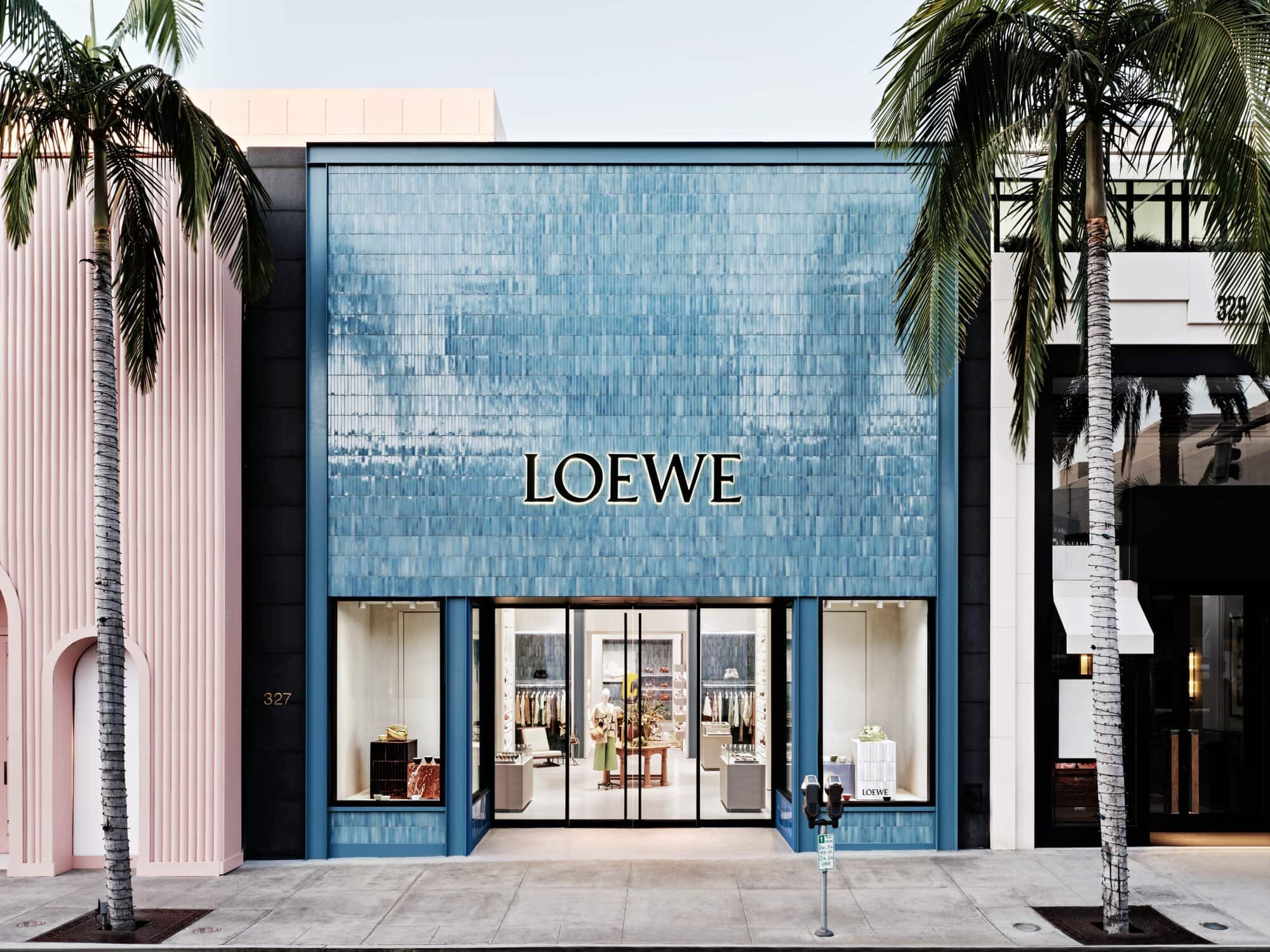 Following on from the reopening of the brand's flagship Greene Street store in New York, Loewe's artisanal vision acquires a West Coast tint in this new space over 3,700 sqr ft –with an earthy palette and emphasis on natural materials defining the shop's three interlocking rooms. Like the clear Californian skies outside, the store's dominant colour is blue. Beginning with the palm-fringed façade and continuing in the use of blue hand-glazed Spanish ceramics throughout the interior walls and shelves, this cool tone is complemented by tiles in other hues. Rich brown ceramics frame the accessories, while womenswear is displayed against a backdrop of textured white. Menswear brings the space full circle, presented in a sea of blue. Contrasting with these refined, glazed surfaces, poured concrete floors and grey walls extend a welcome sense of calm. Brass, mirror and turned iron details bring additional warmth and brightness to the store, and a large ceiling window in the womenswear space cascades natural light.
Art has always been central to the Loewe interior concept and the Loewe Rodeo Drive store will display a selection of works by international contemporary artists. Iranian-German artist Nairy Baghramian, known for her architectural and abstract representation of bodily forms, will present two works including Mooring (2016), her bright yellow, aluminium sculpture, and a monochromatic fibre-based print titled Portrait (The Concept-Artist's Smoking Head, Stand-In) from 2016. The store will also include figurative works by Paul Pfeiffer, whose painted wood renderings of Justin Bieber's head and arms will be on display.
Tomonari Hashimoto iridescent Rain Box (2018), made by layering metal in clay, will share the space with Peter Voulkos' abstract expressionist ceramics and Joanna Constantinidis' selection of ceramic pots and tapered bottles. Red Terrao Bench (2021 – 2022) by Brazilian designer Domingos Tótora, made from recycled cardboard and natural earth pigment, will sit alongside furniture designed by Axel Vervoordt. Works by Doyle Lane, Maria Kristofferson and a large Dogon Pot from Mali will complete the collection on view in the store.
A luxurious play on colour and proportion continues in a large woven wool carpet featuring a pattern by British textile artist John Allen. Other contemporary furniture includes Utrecht armchairs by Gerrit Thomas Rietveld in different shades, and an Axel Vervoordt table. Smaller martini tables and podiums crafted in concrete, glass and ceramic complete the tranquil design, ensuring an elegant composition of line and form.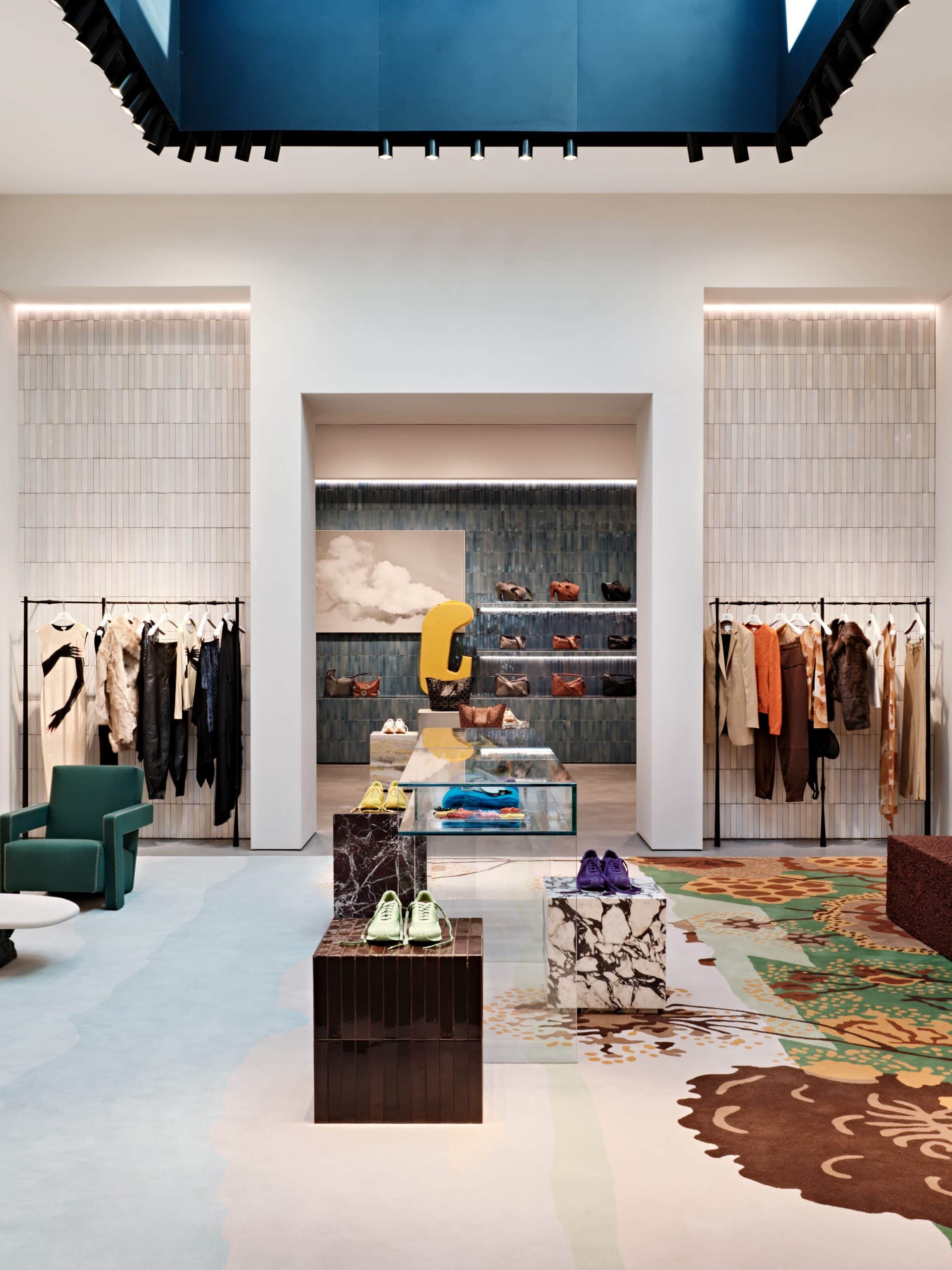 Location | Rodeo Drive, 327 N Rodeo Drive Beverly Hills, CA 90210
---