Re-dressing the Complexity of Beauty
Review of Miu Miu Spring 2024 Fashion Show
By Angela Baidoo
THE COLLECTION
THE VIBE
THE THEME

Teasers of today's show talked of impending doom, asking existential questions such as "Is there a storm coming?" and "Is the sky falling?", which was in fact part of a special project with Qatari-American artist Sophia Al-Maria. Both valid questions, which at the present moment are likely to illicit a resounding yes by anyone asked.
But with the show being about perspective, the answer depended on each person's point of view. If said reader was of a pessimistic persuasion, then the idea of a storm coming would bring up thoughts of man's negative impact on the world coming to head. But a clue revealed in the invitation (written uncannily upside down) alluded to the actual answer, describing the simple pleasant smell which normally accompanies rainfall after a long dry spell, as the probable cause. And if of a logical mindset then yes, the sky tends to fall daily – depending on your regional location, but that's splitting hairs. This mind-bending riddle, which took place before even a single look had hit the runway, proves why they don't call Miuccia Prada the intellectual woman's designer for no reason.
By embracing the unique charcaters that bring joy to life, Miuccia was seeking out a new rationale to underscore beauty. Beauty for the creative director exists in complexity – in our shared history and in our life experiences – all of which inform how we get dressed and show up in the world. So, what does beauty look like in modern times? Individualism, because our differences make us beautiful, because our stories are unique, no two are alike. Whether they are a Water polo prepster living in her boyfriends borrowed jacket, an uber-feminine utilitarian, or a carpentry teacher-cum-craftswoman. A sense of life-worn fabrics were also utilised to reflect the theme of individuality, as according to the show notes "Traces of living mark the clothes – washing, distressing, marked suedes and leathers, an exxagreation of the passage of time expressive of the notion of prior use, of existing love."
In the spirit of "prior use" the inclusion of gold brocade, which could have been a throwback to the Prada summer 2002 collection, added a juxtaposing element into the mix. Giving the preppy looks a dressed-up finish but it also brought about an awareness that the Miu Miu girl can also be a grown woman too. One who will be excited at the prospect of revisiting her early 00s Prada-owning fantasy.
While far from sensible, the collection did stipulate – much like many other designers this season – that the flat shoe will be the one to beat. Including toe-post sandals with straps made from climbing rope, buckled brogues from Churchill Shanghai were left undone (because the Miu Miu girl doesn't have time for such minor inconveniences), and their ongoing collaboration with New Balance on the 530 trainer.
The Miu Miu mini skirt, now a seasonal staple continues it's retreat ever upwards but for summer 2023 she is looser and gathered at the waist. Who needs smartening up when a brand like Miu Miu wants to invite us to join them in their world of delightful dishevelment.
THE BUZZWORDS
Dishevelled decadence. Complex Characters. Luxe layering.
THE SHOWSTOPPER
Look #45
Slightly off-kilter, but perfectly in-balance, there is beauty to be found in remixing clothing and upending notions of their atypical use.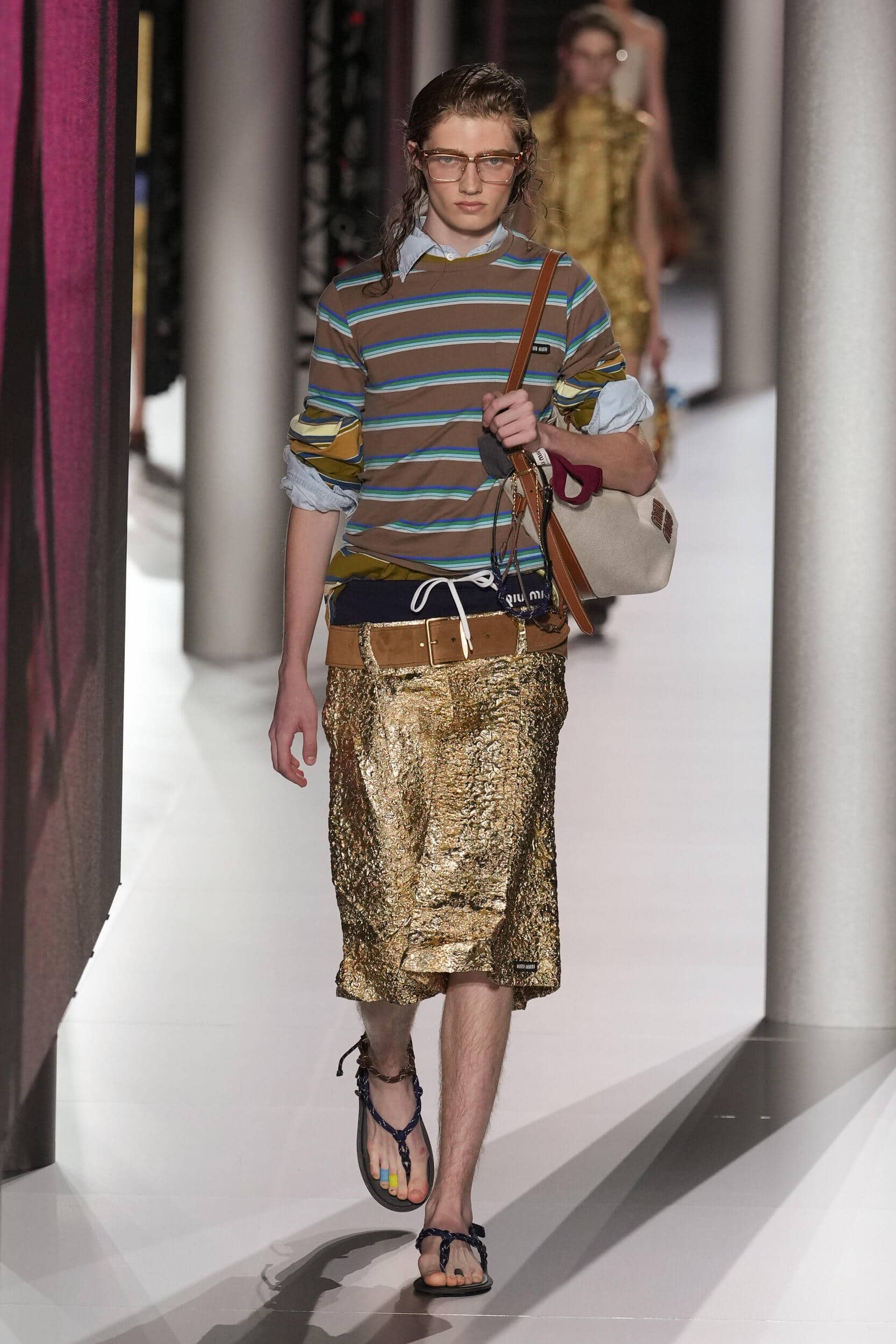 THE DIRECTION
PROS
Miuccia strikes again as the designer finds a way to evolve her preppy aesthetic of recent seasons by remixing past references and bringing together alternative combinations of the everyday.
THE QUOTE
In an ever-changing world, beauty must echo the complexity of our era: this collection is a search for a reflective definition, a reactive address of beauty for modern times.

– Miuccia Prada, creative director, Miu Miu
THE WRAP UP
The Miu Miu girl of dreams is here, slightly skewed, lightly layered and a purveyor of all things opposites when it comes to mixing casual comfort and everyday decadence. And for the designer purposeful clothing "holds significance" according to the show notes, hence the inclusion of swimwear (wearing them by the threes, anyone?), sportswear, and evening wear.
The complex nature of modern identities positions the Miu Miu brand perfectly as new combinations of high and low will be forged. Giving life to the idea that the 'Now' we are living in is full of endless possibilities, if only there was a collective bravery in "echo[ing] the complexity of our era".
---