ALEXANDER WANG & PASCAL DANGIN think medium first in their latest Spring campaign

BY KENNETH RICHARD
For their Spring 2016 campaign, designer Alexander Wang and KiDS creative director Pascal Dangin have taken Marshall McLuhan's 1964 foretelling quote, "The medium is the message," to heart with their latest Instagram-focused campaign.
Shot by longtime Wang collaborator Steven Klein, the campaign "documents 21 musicians, artists & models in their quotidian New York environments" and launched a week ago with teaser Polaroids and a short video promising more to come. And more to come is actually the point.
[quote text_size="small" author="– Alexander Wang"]
There's this kind of traditional idea of doing what we've previously done, which is shoot a campaign, do the full 10 images that you place in magazines, then you do a leak, and then it comes out online and people see it for maybe about two, three days, and then by day four it's on to the next thing. We started thinking about how a season lasts much longer than a week for us, and we asked ourselves, 'How do we continue the conversation with our audience?'
The idea of an ongoing conversation is indeed a hot topic many a brand and agency are having, with 'digital briefs' requesting just that – to leverage the new mediums of today. In the case of Alexander Wang, the designer chose the medium of Instagram, which allows a 24/7 feed of fresh content. However, rather than pushing that story out by themselves, the house wisely looked at an expanded network, turning toward their talent to unveil the campaign throughout March on their own Instagram accounts. Models such as Anna Ewers, Binx Walton, Travis Scott, Lexi Boling, Hanne Gaby Odiele and Kaia Gerber, to name a few, will be posting and reposting the campaign, all also synched to the full campaign, which is on the @WangSquad Instagram account.
McLuhan believed that there is a symbiotic relationship by which the medium influences how the message is perceived and that couldn't be more true here, as Pascal Dangin designed it to look as though the campaign was casually capturing the daily lives of the talent shot in various scenes around Manhattan and Brooklyn.
Critics of the campaign may take a stance that it is too pedestrian, or staged to look like the aspirations of a teen's wild weekend. Comparatively, this is not the highly stylized, aspirational campaigns of Alexander Wang of yesterday. And that, in fact, is where the medium and message converge. If you are going to build an ongoing conversation in Instagram, you need a volume of images. And if you need all that volume and you can't dramatically increase your production and set cost, the path leads in only one direction: photo-realism.
Does it beg the question of how does a design house maintain aesthetic elevation while producing in volume? Certainly. But the genius in this campaign isn't in what it is saying, it is in how often and where it is being said. The real question is: Does this medium require this message?
TEASER CAMPAIGN
[hr align="center" style="dotted"]
CAMPAIGN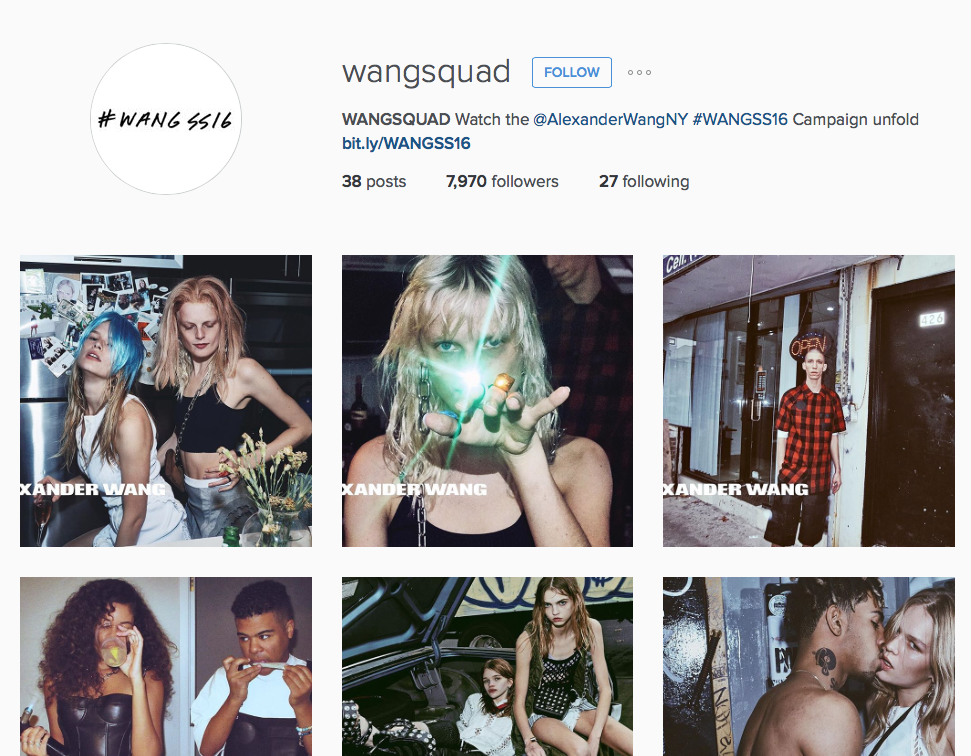 Agency | KiDS
Creative Director | Pascal Dangin
Photographer: | Steven Klein
Models | Alice Glass, Alice Metza, Aluna Francis, Anna Ewers, Baauer, Binx Walton, CL, Diego Villarreal, Hanne Gaby Odiele, ILoveMakonnen, Isabella Emmack, Issa Lish, John Swiatek, Kaia Gerber, Lexi Boling, Lucien Smith, Molly Bair, Peyton Knight, Stella Lucia, Travis Scott & Vic Mensa
Stylist | Karl Templer
Hair | Anthony Turner & Jimmy Paul
Make-up | Polly Osmond
Manicurist | Gina Edwards
Set Design | Stefan Beckman
Casting | Anita Bitton
Music | Baauer
Alexander Wang / @wangsquad | Alice Glass / @_alice_glass  | Alice Metza / @6bubbles6erotica6 | Aluna Francis / @alunageorge | Anna Ewers / @annaewers | Baauer / @baauer | Binx Walton / @binxwalton | CL / @chaelincl | Diego Villarreal / @ddiegovillarreal | Hanne Gaby Odiele / @hannegabysees | ILoveMakonnen / @ilovemakonen | Isabella Emmack / @isabellaemmack | Issa Lish / @issalien | John Swiatek / @yawnjohn | Kaia Gerber / @kaiagerber | Lexi Boling / @lexiboling | Lucien Smith / @luicenmracsitmh | Molly Bair / @molllsbair | Peyton Knight / @peyton.knight | Stella Lucia / @stellaluciadeopito | Travis Scott / @travisscott | Vic Mensa / @vicmensa