---
Review of Berluti Spring 2021 Ad Campaign by Creative Directors Mathias Augustyniak & Michael Amzalag of Agency M/M (Paris), & Photographer Julien Martinez Leclerc
Berluti takes an impressively holistic approach to their latest campaign. Synthesizing design, photography by Julien Martinez Leclerc, and art direction from M/M (Paris), the Spring 2021 campaign works its elements into an elegant and energetic whole.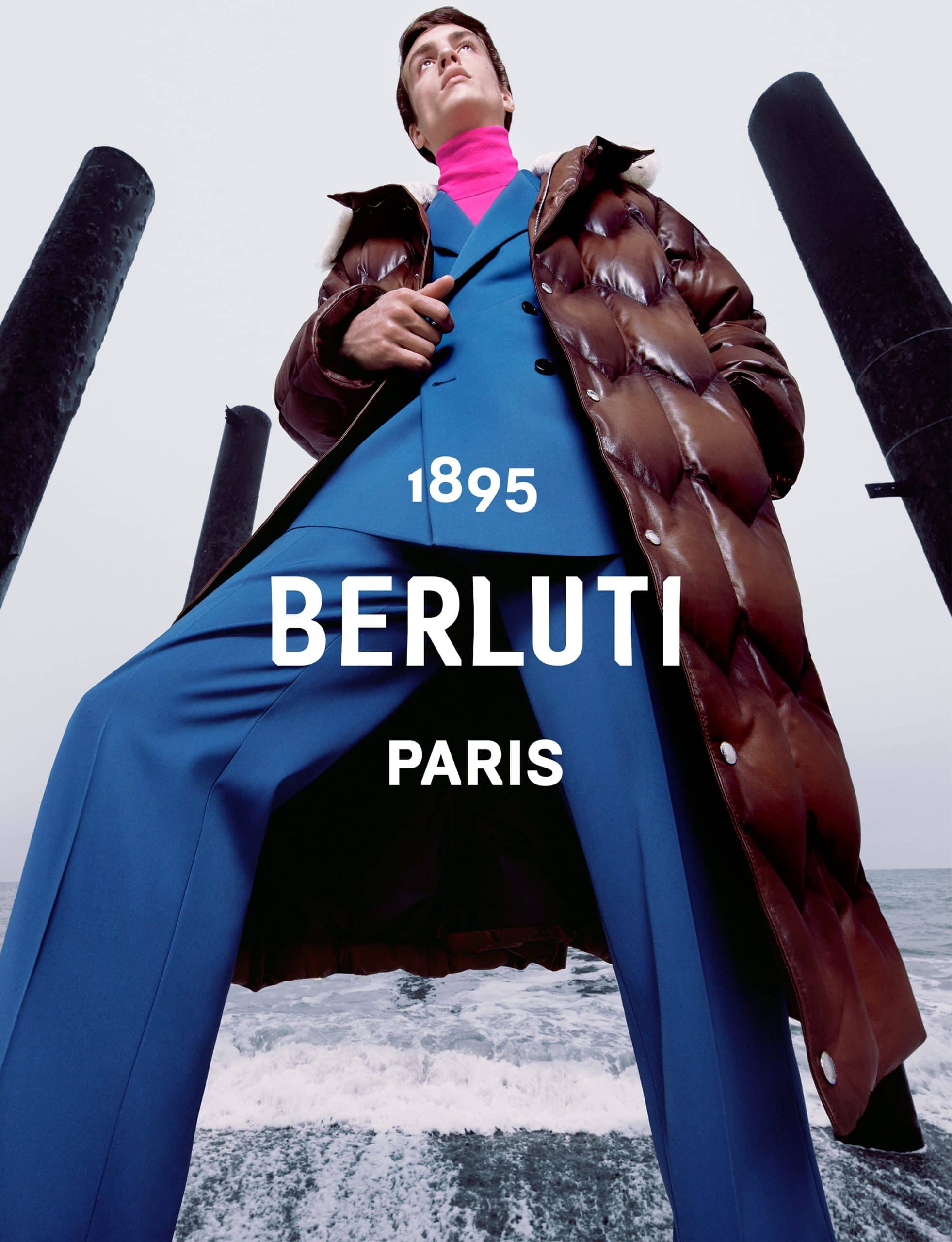 Martinez Leclerc expands on and introduces more color to the aesthetic he employed for the brand's Fall 2020 campaign a few months ago. Once again he uses a wide-angled camera lens and positions it below the center of gravity of his models, so that they tower over us. The brutalist and abstract architectural feature in the background also becomes distorted and diminished, lending further to the imposing, larger-than-life stature of these characters.
An element that is too often overlooked, the brand's logo is brought to the forefront of each image, and like a seal of approval or an artist's signature, feels like an important finishing touch. This is no doubt due to the visionary guidance of the creative director duo behind M/M (Paris), who continue to set some of the strongest examples for art direction in fashion today.
As Berluti traditionally positions itself as a menswear and accessories brand, it is noteworthy and exciting to see the inclusion of a woman, model Kiki Willems, in the campaign. In addition to being a visible celebration of non-binary expression and a smart move to expand their marketability, the decision also shows off the strength and flexibility of creative director Kris Van Assche's designs.
The campaign finds a great balance between its unique artistic energy and an essential simplicity: Martinez Leclerc's photographs are tense, captivating, and dynamic, yet they still give Van Assche's experimental sophistication room to breathe. Complete with slick and impactful art design, the campaign is a towering success.
Berluti Creative Director | Kris Van Assche
Agency | M/M (Paris)
Creative Directors | Mathias Augustyniak & Michael Amzalag
Photographer | Julien Martinez Leclerc
Models | Kiki Willems, Leon Dame, Mahamadou Diaoune, & Wang Chenming
Stylist | Mauricio Nardi
Hair | Anthony Turner
Makeup | Lynsey Alexander
Casting Director | Piergiorgio Del Moro

---