---
Who Is Doing What to Prepare for the 2020 Presidential Election
By Constance C.R. White
Several designers cast their votes for Biden-Harris by creating fashion merchandise for the campaign. Others are doing some serious fence-sitting as they choose to promote voting rather than the democratic ticket. 
American fashion folk are an altruistic bunch. In decades past they've stood up for gay rights, feeding the hungry, educating the disadvantaged, helping elect the nation's first Black president, and they've supported breast cancer patients and those stricken with AIDS.
Now, around a dozen designers including Gabriela Hearst, Jason Wu, Tory Burch, Carly Cushnie, Thom Browne, Joseph Altuzarra, and Victor Glemaud have openly thrown their support behind Biden-Harris. They designed T-shirts, scarves, sweatshirts, and hats displaying the Biden-Harris nomenclature, all to raise funds for the campaign's 'Believe in Better' program.
But another group of fashion insiders are choosing to focus on ambiguous get-out-the-vote merchandise. Is this a good idea?
There's long been a pro-Democrat faction in fashion. And there remains a Republican throughway into it, though it's nowhere near as visible as it was when Oscar de la Renta became the go-to-guy for Nancy Reagan and Nancy Kissinger.
You have to wonder if the vote-focused brands are ducking the need to pick a side. If you in fact want Biden-Harris to win (notice I didn't say if you are pro Biden-Harris) can you afford to bypass Biden-Harris merchandise in favor of a message to vote?
Yes, we've seen the outrageous rollback of the 1965 Voting Rights Act. I get it. Incidents of gerrymandering and voter suppression are shockingly widespread.
For example, in Georgia thousands of voters disappeared from the rolls as democratic candidate Stacey Abrams closed in on the governorship. In Florida, voting rights were rescinded for an estimated 750,000 ex-felons. And the post office. Well, even if there was a real show week and snail-mail invitations went out, the Trump election sabotage means you wouldn't get them until Thanksgiving.
According to the ACLU, NAACP and other voter watchdog groups these are all moves designed to suppress the vote of young people, people of color and people with disabilities. Growing numbers of voters from these groups spell bad news for a Republican party where tomorrow looks like yesterday, filled with regressive ideas such as winner takes all, white supremacy, anti-science, zealotry, misogyny and racism.
Subsequently non-partisan get-out-the-vote merchandise may not have the intended effect – assuming that the effect is to get Biden-Harris elected and vote the divisive, unpatriotic, non-tax-payer Trump, out of office.
This November election could be a turning point for America. Only one group of values will prevail. We're no longer in a one-America moment. Polls indicate we haven't been this polarized since the civil war.
Partnering with 'Rock The Vote' is the course Banana Republic took, exhorting consumers to vote but not suggesting for whom. A mask with the word "Vote" printed on it cost $15 with $5 from the sale of each mask donated to the cause.
Kate Spade and Pyer Moss too are joining with 'Rock the Vote'.
Pyer Moss, a brand that's been prominent in the social justice movement, teamed up with Sean John to produce a T-shirt that reads 'Vote or Die…For Real.' The shirt is an update of Sean Puffy Combs' groundbreaking move back in 2004 to mobilize young voters to register and to vote. Available at Pyermoss.com, all proceeds go to 'Rock the Vote'.
It's part of a new initiative by Pyer Moss founder Kerby Jean-Raymond, Exist To Resist, a platform to highlight the work of social justice organizations. "We are at a pivotal moment and the world is watching," said Jean-Raymond in a statement.
Stuart Weitzman's 5050 Vote boot. 100% of net profits go to the non-profit I am a voter, an organization that works to encourage voting. "I love the way the letters that spell 'VOTE' are intertwined — it symbolizes how every one of us can make a difference," says Stuart Weitzman, head of design Edmundo Castillo in a company statement.
Weitzman uses its e-commerce site to promote 'I am a voter', providing information on the organization and a number to text to register to vote and receive updates on voting and voter rights.
Only 100 pairs of the special edition boots, a take on the classic 5050 boot introduced in 1993, were produced, 50 in black and 50 in silver. They've been spotted on celebrities such as Amber Valetta, Karlie Kloss, Selma Blair and Dr. Jill Biden, Joe Biden's wife.
Vote merchandise used to make sense in the past when less was at stake. But in the absence of accompanying Biden-Harris focus, here are some examples of how foggy it can get.
Zales made an empty grab for consumer dollars while simultaneously hurting an independent Black entrepreneur when it started selling a VOTE necklace. Chari Cuthbert designed the VOTE necklace back in 2016 as a way to remind people to go to the polls. But this summer, within hours of Michelle Obama wearing the byChari piece at the Democratic National Convention, Zales was selling a knock off.
You can purchase the original necklace or a silver version at ByChari.com for $295 and $100 respectively. The site also has links to register to vote, donate to support citizens murdered by police like Breonna Taylor, Ahmaud Arbery, George Floyd, and Elijah McClain as well as information and links to several social justice organizations including When We All Vote and NAACP.
Click around on Zales site and all you will find is more merchandise.
Estee Lauder recently introduced a voter education campaign for its employees. Executives stressed that the program is bipartisan. At the same time, the Lauders including Ronald, Leonard and Aerin are Trump supporters and have made sizable donations to Trump and other Republican campaigns.
Designers who openly come out for Biden-Harris provide a powerful marketing tool. They raise awareness and put the Biden-Harris ticket top-of-mind.
Trump's negative sentiments and policies toward Latinos include calling Mexicans rapists. Gabriela Hearst, who operates her family's ranch in Uruguay, was moved to design a tie-dye T-shirt to help the ticket. Hearst, whose fall 2020 show made a strong statement for sustainability, said the following: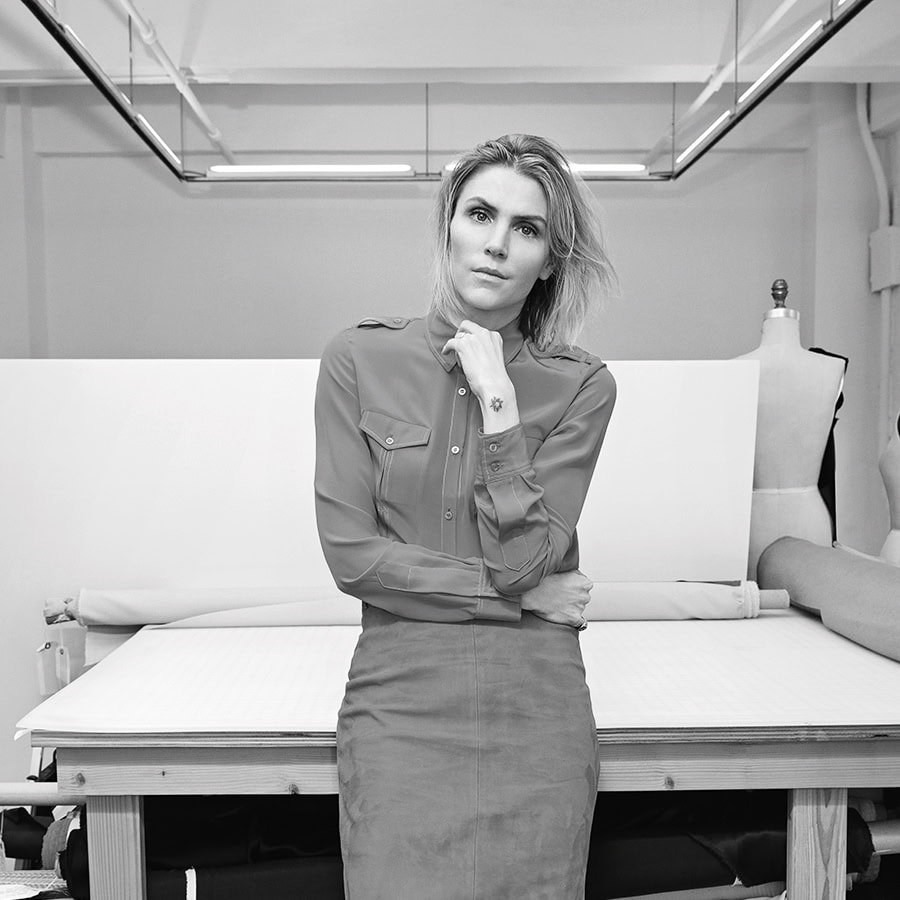 As a Latin woman that cares deeply about the environment that our children will inherit, it was an honor to create a product for the 'Believe in Better' collection to support the Biden-Harris campaign and to express my professional, personal, and civic responsibility.

— Gabriela Hearst, Founder and Creative Director of Gabriela Hearst
Jack McCollough and Lazaro Hernandez literally put their personal stamp on their contribution. The T-shirt they designed is sold, for $45, under their own name rather than their Proenza Schouler brand.
Just in time for cooler fall temperatures, Thom Browne has a navy and red knit scarf that says "Believe in Better".
Aurora James, founder and creative director of The Brothers Veilles, has it about right. As a fundraiser for the democratic ticket, James designed a brown vintage-style sweatshirt that reads 'We Make The Difference: Black Women for Biden Harris 2020.' It sells for $60 on the Biden site.
The Brothers Veilles also teamed up with Keds to produce a pair of white canvas sneakers for "When We All Vote", sold on the nonpartisan group's website. Among the founders of "When We All Vote" is Michelle Obama. James models the sneakers which cost $100, are hand-signed by her and feature a Kenyan wood charm. Pretty clever given her brand DNA of social and economic sustainability in countries like Kenya. All the money raised goes to "When We All Vote".
As it was in 2008, fashion can be a critical part of a presidential win in this pivotal election. However, just encouraging people to vote is no longer enough. Designers and brands looking for a Biden-Harris win need to persuade their fans through both their words and their actions to vote for Joe Biden and Kamala Harris in the 2020 Presidential Election.
---